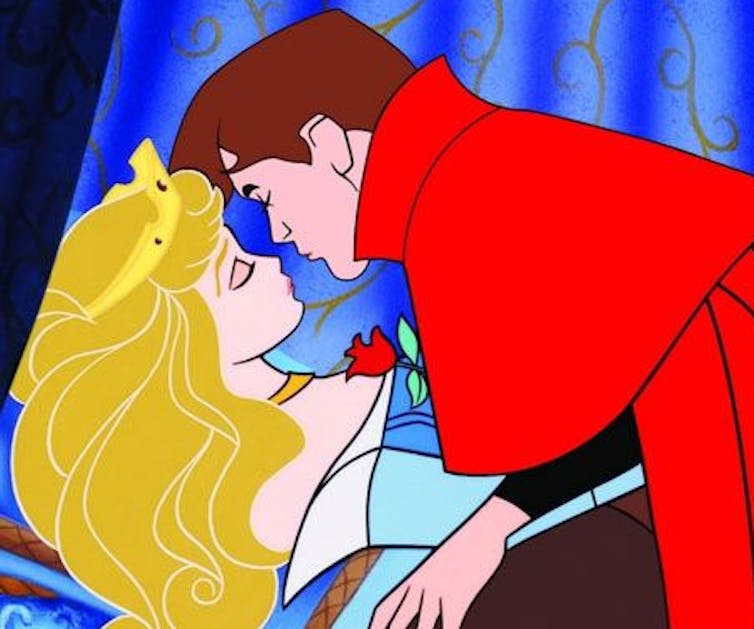 The famous kiss scene from Sleeping Beauty. Disney
Recently, an English mother, Sarah Hall, prompted
worldwide media coverage
in response to her suggestion that Sleeping Beauty should be removed from the school curriculum for young children because of the "inappropriate sexual message" it sends about consent.
It's not the only time fairytales have come under scrutiny recently. They are increasingly being
targeted
for "banning" within schools or avoidance by parents because of their perceived sexism, passive princesses, and reinforcement of marriage as girls' ultimate goal. But can fairy tales actually be harmful as their critics believe?
Fairy tales were once told – and then written – by adults for adult audiences. Early versions of many tales were often bawdy, salacious and replete with sexual innuendo. Since the Grimm Brothers removed these elements to reconfigure the fairy tale for children in the early 19th century, fairy tales have been seen as ideal, imaginative stories for young people. Almost all of us know the most popular stories from childhood reading or Disney films.
Tradition is not reason enough to continue a cultural practice that has become outmoded. Nevertheless, there are a range of reasons why these calls to restrict children from reading fairy tales such as Sleeping Beauty are misguided.

Children's literature needn't model 'ideal' behaviour
Initially, most children's literature was didactic and preoccupied with instructing children in correct morals and drilling them with information.
Adult readers today would struggle to find any pleasure in children's literature prior to 1850, let alone today's kids. In order to provide "delight" as well as "instruction", children's books represent a range of behaviour, including, in the case of fairy tales, the attempted murder of children, and punishments such as feet being severed and birds pecking out human eyes.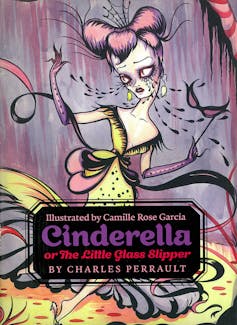 Charles Perrault was the French author who added the famous motifs of the glass slipper and pumpkin coach to the Cinderella tale. In his version of Sleeping Beauty, after the Princess and the Prince marry in secret and have two children, the Prince's mother is entirely unimpressed. Unsurprisingly within a fairy tale, the Prince's mother is descended from ogres and she demands that the two children be killed and eaten for dinner by the whole family, with the macabre detail that the boy is to be served with Sauce Robert.
As in Snow White, in which the Huntsman refuses to kill the heroine and substitutes an animal heart for that of Snow White's, no actual harm comes to the princess or her children but not before the ogress has prepared a tub full of vipers in a typical last-ditch attempt at villainy.
When we consider the norms of evil and violence in fairy tales – most of which are usually punished – it is bizarre to imagine every detail serving as a behavioural model for children. If we insisted that every character in children's literature behaved precisely as we wish to teach children to behave then we would likely be presenting bland stories that no child would actually read.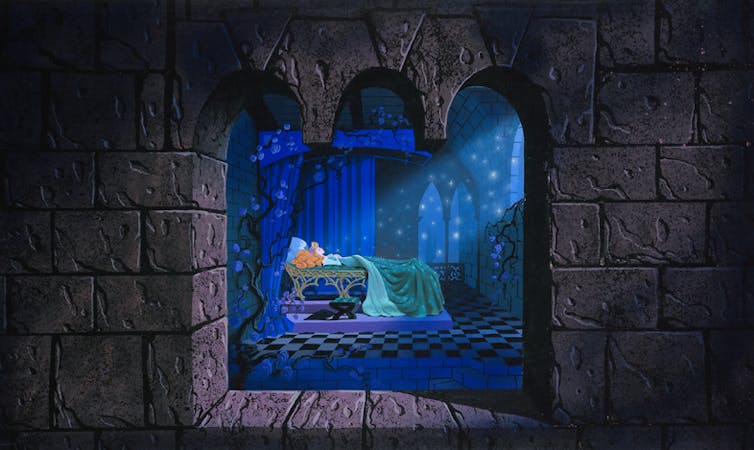 Considering plot points in context
If we focus on one plot point, like the kiss in Sleeping Beauty, we can overlook the overall narrative context.
Within
the tale
, it becomes legend that the sleeping spell that has been cast on the Princess will only be broken after one-hundred years by the kiss of a king's son. The narrative premise includes a premonition about how the magic will unfold and demands the resolution of the prince's kiss to "save" the princess who must wait to be returned to consciousness.
While we might critique the emphasis on romance and passivity from a feminist perspective, the idea that the tale is promoting the equivalent of a
Steubenville scenario
in which an unconscious young woman is sexually assaulted ignores the magical logic of the fantasy world.
By that measure, we might see Prince Charming as a maniacal stalker as he demands all women in the kingdom try on the glass slipper in order to track down the attractive girl who failed to slip him her address before running off from the ball.
In Sleeping Beauty, it is significant that the Prince is told about the Princess being doomed to sleep until she is awakened by a king's son. The Prince recognises that he is one of few people who can end the curse and resolves to tackle the brambles and thorns that surround the castle in which she is trapped in slumber.
Significantly, in the Grimms' version,
Little Brier-Rose
, numerous young men try to push themselves through the thorny hedge and die miserably in the attempt. However the hedge turns into flowers for the Prince and allows him through. Only the right man, with the right motivations, and the one who can release the Princess from the curse – is permitted through.
Rather than being a parallel to a kiss taken without consent, the Sleeping Beauty kiss is akin to a paramedic giving mouth-to-mouth resuscitation to an unconscious person who would most usually want to be revived.

Many versions of every fairy tale
The version of Sleeping Beauty targeted in the UK is part of the
"Biff, Chip and Kipper"
series designed to teach children to read. These books aim to educate children in the mechanics of reading and, as such, some of the literary nuance, symbolism, and visual artistry present in many fairy tales and picture books based upon them are no doubt lacking.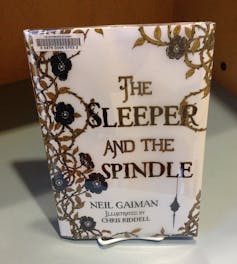 It is important to recall that there is no definitive version of a fairy tale. Calls for "bans" of a particular tale ignore variations between, say, Perrault's Sleeping Beauty complete with cannibalistic, viper-wielding ogress and the Grimms' less violent adaptation.
Rather than eschewing fairy tales entirely, parents and educators would be better placed to look to quality adaptations and retellings by outstanding children's authors, such as Neil Gaiman's
The Sleeper and the Spindle
, which merges Snow White and Sleeping Beauty.
In this tale, the Queen sets out on a journey armed with a sword to save the Princess and is the one who rescues her through a kiss.
There is even a picture book version called
Sleeping Bobby
in which the gender roles are entirely reversed. Numerous parodies such as John Scieszka's
The Frog Prince Continued
, in which the Princess's married life with the frog is far from "happily ever after", can also be a way for older readers to begin to question and play with the conventional gender expectations of some fairy tales.

Reweaving old stories into new
Fairy tales have been undergoing a continuous process of being rewoven into new stories for hundreds of years.
Just as many old tales have fallen out of favour and are no longer known, so too might some contemporary favourites eventually stop being told to children, potentially replaced by reworked versions or entirely new stories.
This storytelling method of old wine being poured into new bottles has a rich tradition and does not require our intervention. After all, the people who ban books in stories are always the villains, not the heroes.

This article was originally published on The Conversation. Read the original article.